Balance Transfer offer now through June 15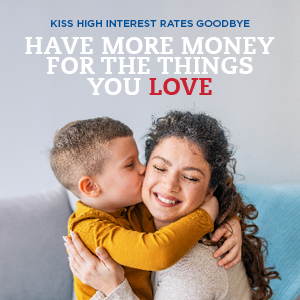 How do you know if a Balance Transfer is best for you?
If you are carrying a high-interest-balance on a credit card and are looking for a way to pay off your debt faster - there are a few things to consider when transferring your balance:
No balance transfer fee
No annual fee
The interest rate is lower on the new card than your existing credit card
Calculate how much money you could save or how quickly you could reduce your debt by transferring your balance to a lower rate.
Now through June 15, take advantage of our Balance Transfer Offer on any CAMPUS Visa Platinum Credit Card:
4.9% APR for 15 months1
And … No Balance Transfer Fee!!
Plus! — Earn rewards on all future purchases with the CAMPUS Visa Platinum Rewards Card.
Make $500 in purchases in the first 90 days and earn 10,000 points redeemable
for merchandise, travel, gift cards — even cash!2
Already an existing CAMPUS Cardholder?
Take advantage of this great offer online now!
Log in to CAMPUS Online Banking
Access the "Card" tab in the left navigation
Click on "Services" from the top menu
Select "Balance Consolidation"
Membership is open to anyone in Alachua, Clay, Columbia, Gadsden, Jefferson, Lake, Leon, Madison, Marion, Sumter, Suwannee, and Wakulla counties!3
Offer subject to change without notice. May not be combined with any other offer. 1. APR is Annual Percentage Rate. Offer of credit is subject to credit approval and initial $5 deposit required. There are costs associated with the use of this card. For specific information call 800-367-6440 or write us at P.O. Box 147029, Gainesville, FL 32614. The Annual Percentage Rate is a variable rate for Visa Rewards and is based on the Wall Street Journal Prime Rate (index), plus a margin. The margin is based on certain creditworthiness criteria. Promotional APR for Balance Transfer is 4.9% and will be effective for 15 billing cycles after the cycle in which the transfer takes place; then the rate on transferred balances will change to the then-current purchase APR consistent with the Cardholder Agreement. The APR as of 04/07/2020 is as low as 10.15% which is determined by adding together the index and the margin applicable to the card type and the consumer's credit. The APR could change without notice. APR not to exceed 17.99%. Balance Transfer Promotional rate available 4/16/2020-06/15/2020 only. 2. Rewards are credited based on purchases with the CAMPUS Visa Platinum Rewards Credit Card. Cash advances and balance transfers do not qualify for rewards points. 3. Credit approval and initial deposit of $5 required.