Balance Transfer offer September 1 - October 15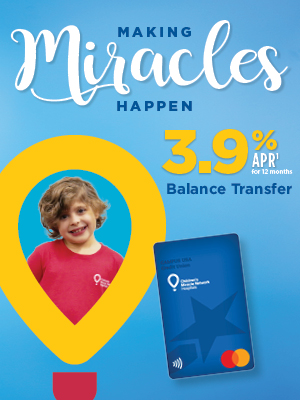 Pay off your debt faster with our Balance Transfer Offer available on any CAMPUS Mastercard® Credit Card, including the Children's Miracle Network Platinum Mastercard.
3.9% APR for 12 months1
No Annual Fee
No Balance Transfer Fee
No Cash Advance Fee
Already an existing CAMPUS Cardholder?
Take advantage of this great offer online now!
Log in to CAMPUS Online Banking
Access the "Cards" tab in the left navigation
Click on "Services" from the top menu
Select "Balance Consolidation"
Offer subject to change without notice. There are costs associated with the use of these cards. For specific information call 800-367-6440 or write us at P.O. Box 147029, Gainesville, FL 32614. APR is Annual Percentage Rate. 1. Balance Transfer promotional rate available 9/1/2022-10/15/2022 only. Promotional Annual Percentage Rate (APR) for Balance Transfer is 3.9% and will be effective for 12 billing cycles after the cycle in which the transfer takes place; then the rate on transferred balances will change to the then-current purchase APR consistent with the Cardholder Agreement. The APR is as low as 9.80% as of 9/01/2022, which is determined by the consumer's credit. APR not to exceed 12.25%. Mastercard and the Mastercard Brand Mark are registered trademarks of Mastercard International Incorporated, used pursuant to a license.