It's not a dream home unless you have a dream mortgage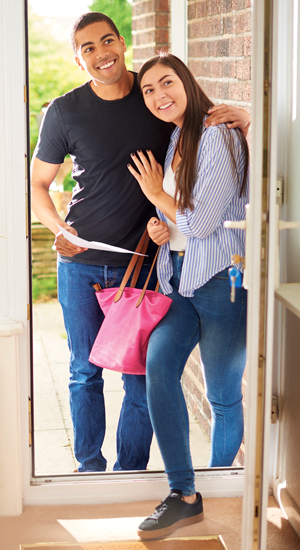 House hunting for your dream home is fun – until you realize how much your down payment should be in order to avoid private mortgage insurance, also known as PMI. Without a 20% down payment, most lenders will require the borrower to pay for PMI to protect the lender if the loan goes into default.
At CAMPUS, we know that not all borrowers are created equally.
Attention Homebuyers and Homeowners in Marion, Lake and Sumter counties!1 We are offering an opportunity to purchase your dream home with only 10% down and no PMI OR refinance your current mortgage and drop PMI with only 10% equity!2
There's more….
No up-front application fee
No intangible tax
We'll match or beat any bank rate3
Bi-weekly payment option saves you even more in interest4
Apply to refinance your current mortgage and DROP PMI with only 10% equity!2
OR
Apply for a Conventional Mortgage with just 10% down and NO PMI!2
Membership is open to anyone in Marion, Lake and Sumter counties!5
Offer is for new purchase money or refinance loans only. Offer does not apply to existing CAMPUS loans. 1. Offer is ONLY for primary residences of properties in Marion, Lake and Sumter counties. 2. Programs, rates, terms and ­conditions are subject to change without notice. Credit approval, sufficient ­income, adequate property valuation (maximum LTV of 90%) and first mortgage position are required. LTV = Loan to Value. Offer excludes mobile homes; certain other restrictions apply. Property insurance is required; an appraisal, flood and/or title insurance may be required. 1. Example: A $200,000 purchase with a $20,000 down payment at 4.75% for 360 months would require 359 monthly ­payments of $941.67 and a final payment of $936.41, total finance charge of $158,995.94; for a total payment of $338,995.94. The amount financed is $178,515.00; the APR is 4.821%. APR = Annual Percentage Rate. A $20,000 down payment on a $200,000 purchase will waive the private mortgage insurance requirement. 3. "Bank" means any local financial institution with the word "bank" in its name. Rate not to fall below minimum APR (floor). APR=Annual Percentage Rate. 4. Bi-weekly payment options may not be available on all loan scenarios. 5. Credit approval and initial deposit of $5 required.