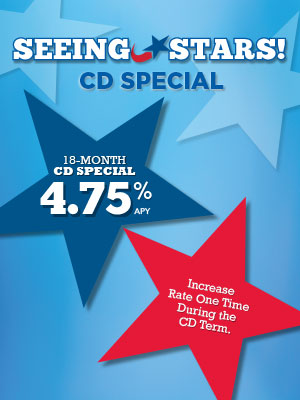 Take advantage of this special offer! Get the best credit union CD rate available in Florida on an 18-month CD. 
Current CD rate special for March:
18-month CD Special at 4.75% APY¹
Plus! Increase your rate one time during the CD term². 
If you would like to take advantage of one of our special rates please contact us at 800-367-6440 and press 5 or log in to CAMPUS Online and Mobile Banking to send us a secure message!
Offer subject to change without notice. APY assumes interest remains on deposit until maturity. Penalty for early certificate withdrawal which may reduce earnings. Ask any CAMPUS representative for more information about applicable fees and terms. 1. $25,000 minimum deposit. Annual Percentage Yield (APY) effective 02/17/2023. Deposits are federally insured up to $250,000 by the National Credit Union Administration, a U.S. Government Agency. 2. During your CD term, if we offer a higher rate for the same term and amount as your new CD, you may increase your rate one time.