Personal Loan
As low as 7.16% APR1 for up to 48 months.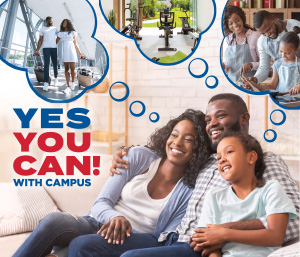 PLUS, get a cash bonus up to $2002 when you consolidate your debt!
A personal loan can provide the funds you need to achieve your goals, help cover unexpected expenses, consolidate your debt, and more.
Other benefits:
Easy online application
Flexible terms to fit your budget
No collateral required
No early repayment fee
Offer is for new loans only. Offer subject to change without notice. Existing CAMPUS loans and credit cards are not eligible. 1. Credit approval required. Your APR may vary based on your creditworthiness, loan amount, and term of loan. For example, a $30,100 loan at 6.99% for 48 months would require 47 monthly payments of $722.76 and a final payment of $722.58, finance charge of $4,692.30, for a total of payments of $34,692.30. The amount financed is $30,000.00, the APR is 7.16%. APR = Annual Percentage Rate. 2. Cash rebate is 1.5% of loan amount up to a maximum of $200. Limit one per household. Offer is for Debt Consolidation loans only. Must present this offer at time of loan closing.